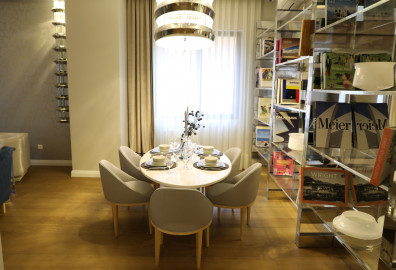 Project Overview
Payment methods: Installment,Cash Special status: New
General Details
Payment Method
Installments
Description
Invest in your Future and Comfort!

This project stands out for:
Hotel Services and Good Investment Opportunity



This project, located in Bahçeşehir, consists of one residential building of 15 floors, and one commercial and services building of 4 floors. The residential building is located with panoramic views on the lake and promised Canal Istanbul project. It has a wide range of apartment options starting from a studio, to 3-bedroom apartments. Apartments are designed and serviced like a five star hotel.



The location of the project offers easy access to the Istanbul Airport in around 15 minutes. It is also no more than 10 minutes away from the Akbatı shopping mall. The great location, quality of services along with the competitive prices make this project a perfect choice, for both living and investment.



Bahçeşehir, is one of the fast developing modern areas in the European side of Istanbul. It attracts the interest of investors due to its proximity to the grand project of Canal Istanbul intended to create an artificial sea-level waterway depicting the Bosphorus. Canal Istanbul project is expected to create a boom in businesses, rents, and apartment prices in the surroundings within few years. The area is also known for its serenity and greenery away from the hassle of the city. The Canal Istanbul project is expected to change the face of the surrounding, making the area the new modern centre of Istanbul.


Price Range
| | |
| --- | --- |
| خطة الدفع | 50% دفعة أولى والباقي أقساط لغاية 24 شهر |
| | كاش مع حسم 10% |
| الغرف+الصالون | اقل مساحة | اكبر مساحة | اقل سعر | أعلى سعر |
| --- | --- | --- | --- | --- |
| 0+1 | 47 m² | 49 m² | 341785 | 384030 |
| 1+1 | 54 m² | 196 m² | 355300 | 889015 |
| 2+1 | 85 m² | 178 m² | 487575 | 1067905 |
| 3+1 | 167 m² | 170 m² | 963900 | 1013200 |
We would love to hear from you and we are here 24/7 at your service for any inquire, our consultancy is 100% free