AR-195
Copied!
Print
Own your smart apartment and live in 7 star hotel in Istanbul's Maslak
2.576.000 ₺
Maslak, İstanbul, TURKEY
---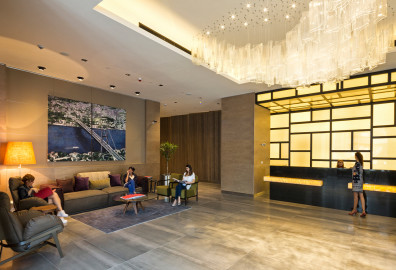 Project Overview
Buy smart luxury apartment and live in 7 star hotel in Istanbul's Maslak. The architectural obtained LEED 'Green Building' Certificate.
General Details
Payment Method
Cash And Installments
Why This Project?
It is the first project in Turkey with the concept of "Artful Living"
Enjoy the services of a 7-star hotel for 365 days
Distinctive architecture and the project is environmentally friendly
Smart apartments with a location in Maslak district in the middle of the financial and business center in the heart of Istanbul.
The project is suitable for Turkish citizenship
Description
AR-195 is the first in Turkey with its 'Artful Living' concept that offers a life hand in hand with art, it also puts design and functionality forward.
AS IF YOU LIVE IN A 7 STAR HOTEL 365 DAYS
AR-195 project is a commercial/residential project situated in Istanbul's Maslak district.
Preparing to become an art center that will be closely followed up both in Istanbul and the world, AR-195 contains 445 residences with balconies within its two towers with 42 floors. In these flats with a 4m high ceiling, you are only an elevator ride away to your work or shopping.
There is also 10-floored business hotel and a business center.
Various apartment options of studio 1+1, 1,5+1, 2+1 and 3,5+1 flats that bear the signature of SinanKafadar and HüseyinErk / Metex Architecture which is one of the most renowned architects in Turkey, the high quality brands that were used for the interior meet the expectation.
AR-195, whose architectural design was based on 'Green Building' principles in order to obtain LEED 'Green Building' Certificate shows high performance on criteria such as; land durability, low energy consumption, sound and heat isolation and material and interior quality. AR-195 once again proved its efforts on sustainability by obtaining the LEED certificate, given only to buildings, which are constructed based on specific criteria, for the 3th time.
The project is built on a vast land area: 39.000 sqm.
The vast office area of 44 thousand sqm is accompanied by clubs and social facilities.
Thanks to AR-195 Life Concierge Services you will able to make a booking at the most popular restaurants and clubs, buy tickets to national and international cultural, art and sports events, become a member of a sports and beauty center and organize holidays with different concepts.
Soon you will be able to use the 42 Shopping Mall application, which was developed to inform guests who would like to enjoy the privileges of AR-195.
AR-195 is happy to offer you custom made services that facilitates life both at home and abroad and events that enrich life through its aim of 100% customer satisfaction, 16 years of experience and its strong technological infrastructure. 
You can reach your AR-195 Life Concierge services through an automated system special to your dreams from the TouchPanel in your flat, the AR-195 Life mobile application (IOS and Android) or our staff at the reception. 
You can view any demand from A to Z at any time through AR-195 Life Concierge automated system.
This system was developed in order to manage procedures from a center and at a standard of quality determined beforehand. 
AR-195 Life Concierge automated system, which integrated with global concierge services and pioneered at common space management through its artificial intelligence, is a structure that combines a 16 year experience with cutting-edge technology.
Thanks to this special system we don't only control interior procedures but also we are in contact with all AR-195 residents 24/7 and apply our standards with our perfect customer understanding. 
The project presents offices, home-offices and residence options.
The structure is built with advanced technological qualities that enhance the practicality and convenience of both residence quarters and the workplace.
The project includes various social facilities such as indoor swimming pool, children's playground, fitness center, café and restaurants, shopping center and cine along with reception/lobby areas, solar panels, smart building features, central heating and sprinkler system with other safety regulations. These features increase the investors' and future clients' interest to the project.
Project site features
The project enjoys a privileged location near Park Plaza, Levent and Levent 4, many schools and several universities, including Ayaza University, Bogazi and Koch. It is also 5 minutes away from the TEM highway and Ayaza metro station.
Distances
TEM highway – 5 min
Ayazaga metro station – 5 min
Istinye Park AVM – 4 min
Levent – 10 min
related articles :
Apartment prices in Istanbul and major cities in Turkey in 2021
Benefits of acquiring Turkish citizenship
How to buy a property in Turkey in 3 days
How to get Turkish citizenship, with the highest ROI guarantee
Real Estate Residence in Turkey
Advantages of buying a property in Turkey
#akarkom_real_estate   #real_estate_investment  
#property  #turkey_real_estate  #turkish_citizenship
Distance To
Price Range
| Room Type | Starting | Ending |
| --- | --- | --- |
| 1.5+1 | 5.104.000 ₺ | 5.584.000 ₺ |
| 1+0 | 2.576.000 ₺ | 2.696.000 ₺ |
| 1+1 | 3.816.000 ₺ | 10.488.000 ₺ |
| 2.5+1 | 9.712.000 ₺ | 9.712.000 ₺ |
| 2+1 | 4.312.000 ₺ | 7.344.000 ₺ |
| 3.5+1 | 9.872.000 ₺ | 10.792.000 ₺ |
Amenities
Indoor swimming pool
Turkish bath
Sauna
Fitness center
Balcony
Central heating
Guarding and cameras
Anti-Earthquake
City view
Smart apartments
Restaurants and Cafes
Urgent alarm system
Shopping mall
Conditioning
Receptionist and concierge
Supermarket
Air Conditioner
Generator
Valid for Turkish Citizenship
We would love to hear from you and we are here 24/7 at your service for any inquire, our consultancy is 100% free